The White House Easter Bunnies Through History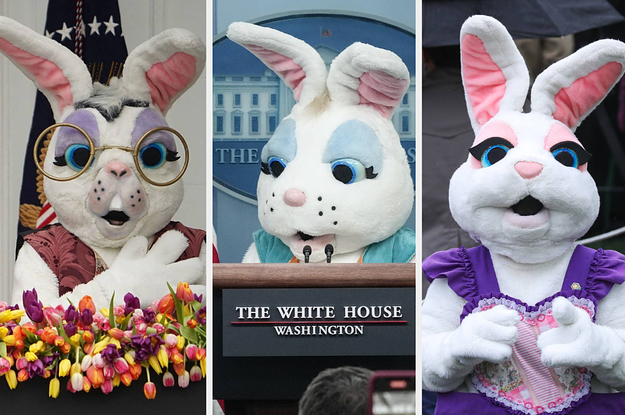 After this story was published, two friends of the late Ohio costume store owner contacted BuzzFeed News to solve the bunnies mystery. Cincinnati's John Schenz started making the bunnies for the White House event in the 1980s and traveled to DC every year for the Egg Roll, costumes in tow.
He did so until his death from a lung disease in 2020 – the same year the event was canceled due to the pandemic.
Reached by phone, a friend of the late client told BuzzFeed News that he and two other Schenz associates are now carrying on the tradition in his memory. (This person asked that they all remain anonymous in order to keep attention on Schenz.)
The rabbits never belonged to the White House, and taxpayers never paid for Schenz to rent them to the government for the event.
Instead, he moved at his own expense every year because he loved the joy they brought to people.
The three bunnies pictured on Monday – 'Mama', aka the bunny with the pink eyes and the purple dress; "Dad", aka the Shocked Rabbit with Glasses; and "Junior", the Blue Eyed Rabbit – were all originally made by Schenz.
Schenz's three friends now store the costumes "in an undisclosed location near DC."
This year's event was the first time all the rabbits were in the White House without the late client.
"It was surreal, but it was also a lot of smiles," his friend told BuzzFeed News. "The Easter bunny always makes everyone smile."